Welcome to Real People's Music Award-Winning Web Site!
NEW!
Announcing PEGGY SEEGER'S "I Just Can't Stay Away" Tour
Tour Schedule (as of October 17, 2013)

Friday, March 14

The Mainstay, Rock Hall, MD, www.mainstayrockhall.org/performances. To Reserve Tickets • (410) 639-9133 • 5753 Main St

Saturday, March 15

Washington DC, Greater Washington Folklore Society, Ethical Cultural Society, details to follow

Sunday, March 16

Bethlehem, PA 4:30 PM Seventy minute concert Godfrey Daniels, 7 E 4th St, (610) 867-2390 Admission TBA, http://www.godfreydaniels.org/home.aspx

Tuesday, March 18

Great Barrington, MA penciled for a lecture

Wednesday, March 19

Beacon, NY The Towne Crier, 7:30 PM Women's Month Concert, 379 Main St, (845) 855-1300, http://www.townecrier.com/ Admission TBA

Thursday, March 20

Schenectady, NY Eighth Step @ Proctor's, 432 State Street, Info: 518-434-1703. Box office 518-346-6204.

Saturday, March 22

Chicago, IL Old Town School of Folk Music, Szold Hall 4544 N. Lincoln Ave., (773) 728 6000, 8 PM $22, Members $20

Sunday, March 23

Cedar Rapids, IA penciled

Thursday, March 27

Ithaca, NY Cornell Folk Song Society 8 PM Hollis Cornell Auditorium, Goldwin Smith Hall Hall on the Cornell University campus (location may change due to the vagaries of university room scheduling.) The ticket price is $15 advance/$17 door with discounts for members, seniors and children. Numbers to give out for fans to get information 607-255-4234, 607-257-3729.

Friday, March 28

New York City, Penciled

Saturday, March 29

New York City workshop/lecture Penciled


photo by Dale Hubert
After two Farewell U.S tours, Peggy Seeger just can't stay away. She says "It's silly, you know. When I lived in the USA I was homesick for the UK. Now I'm over here and homesick for friends and acquaintances and the audiences in the USA."
Traveling with her grandson Alex MacColl, Peggy will be doing a driving tour from Boston and various points in the east coast to Chicago now being scheduled from March 13-25, 2014. Peggy's new CD Everything Changes will be released at the end of 2013. Please call Josh at 708-205-4068 for booking information.
Laura Fuentes, who RPM had the honor of representing for many year writes of Victor Jara and the bloody coup of 40 years ago. Great to hear from Laura:
"I didn't go to the Bruce Springstein Tribute Concert to Victor Jara concert, but I'm here in Santiago and I saw a clip of it on Youtube. How sweet! Yesterday (September 16) was the anniversary of Victor Jara's murder. Since this is the 40 year anniversary of the coup, there have been a lot of heart wrenching revelations - really well done documentaries, acts of homage and such. The new permanent museum, Museo de la Memoria, is really well done. There's been a great three-part series on open TV called Imágenes Prohibidas, and an excellent film called Ecos del Desierto. People are still coming to terms with the truth here, but huge steps are being taken just this month. By the way, I didn't know until now that Australia had also participated with the U.S. in covert initiatives to destabilize the Chilean government in the '70s. Did you know that. (No, I did not, JD) In other news, it's great to be living in Santiago again, and I absolutely adore my regular day job as a full time Music Teacher at the international school here. Ayin is a thoughtful, kind teenager now - infinitely more inhibited than the elfin toddler he once was - but still brilliant in more subdued ways. It's great to be in touch with you and I'm so happy to know you've been working with Correo Aereo who are fantastic!"
New! Our Summer issue of Occasional is now available!
---
Real People's Music is proud to announce that Correo Aèreo's fine rendition of Atahualpa Yupanqi's "Los Hermanos" is on the sound track of the new documentary release: Shift Change, Putting Democracy to Work, a film about good jobs, healthy communities, and better business with companies that are owned and managed by their workers. Produced and directed by Mark Dworkin & Melissa Young, who have been making excellent documentaries on social justice issues for over 20 years.
Please consider a Correo Aèreo miniresidency that includes a concert, classroom work and a showing of Shift Change. Distributed by: Shift Change Correo Aèreo is exclusively represented by Josh Dunson at Real People's Music, 708-386-1252.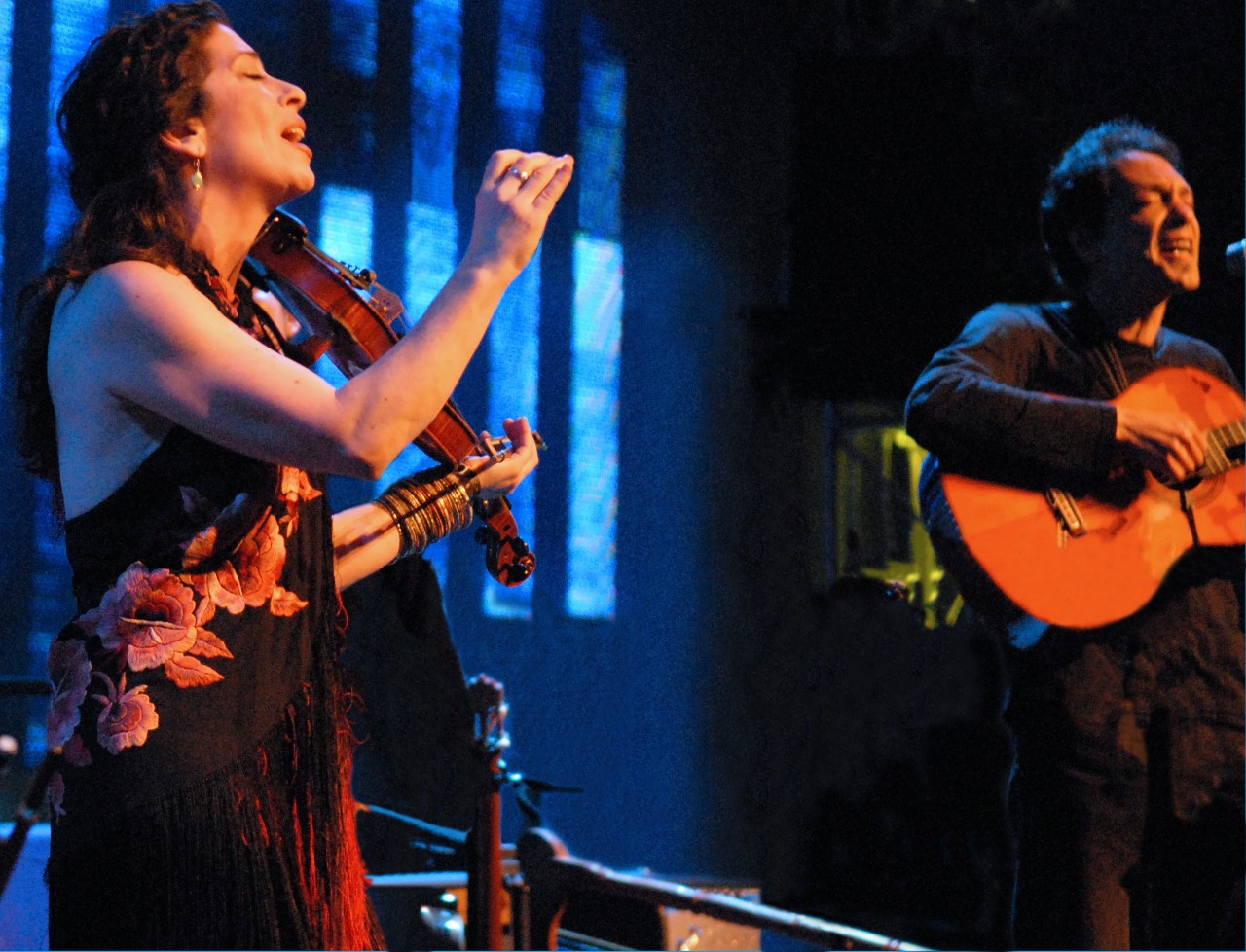 photo by Jack Sorms
Correo Ae'reo's "Los Hermanos" is found on their current release Semillas de Inmensidad'/Seeds of Immensity Track 8 (5:25).
Please send your snail mail address to Josh Dunson (rpmjosh@aol.com) for a copy of the CDs and an attachment of notes and translations.
Abel Rocha's and Madeleine Sosin's translation of "Los Hermanos" follows:
I have so many brothers
More than I can count.
From the valleys, the mountains
the plains and the seas.
People connected by work, by dream,
with hope ahead, and memory behind.
I have so many brothers
More than I can count.
People whose hands are hot
from extending them in friendship.
With a cry for a cry, a prayer for a prayer.
With an open horizon that is always far beyond
And the strength & will to keep going towards it.
Because the closer it looks, the further away it actually is.
I have so many brothers
More than I can count.
That's how we go on
tanned like leather by loneliness.
It's how we lose each other in the world.
It's how we find each other again.
It's how we recognize each other from a great distance.
And these songs that we eat: Seeds of immensity.
That's how we go on
tanned like leather by loneliness.
And our beloved dead,
Well, we take them with us, in us
so no one gets left behind.
I have so many brothers
more than I can count.
And a sister, very beautiful,
whose name is freedom.
Introducing Jon Brooks, Borealis Recording Artist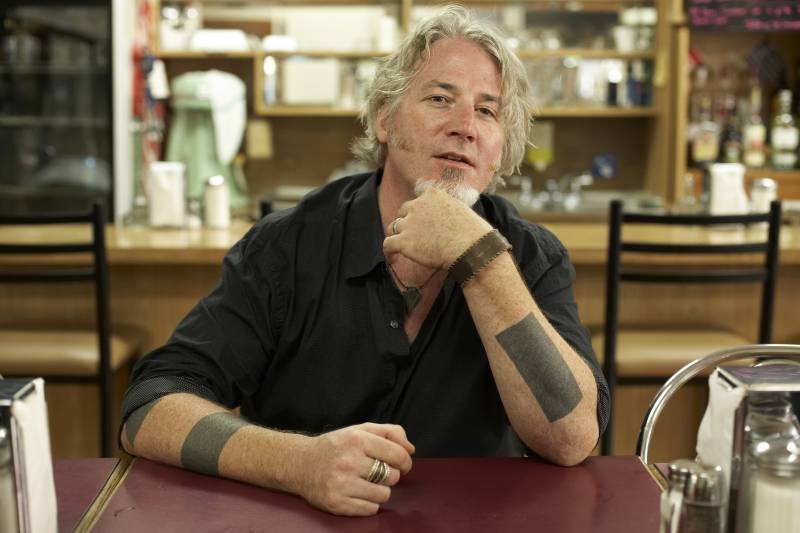 photo by Kevin Kelly
Real People's Music is proud to represent Canadian singer-songwriter Jon Brooks whose songs brilliantly create an emphatic and critical response to the stark pictures drawn. Please see www.jonbrooks.ca for music and video and http://www.jonbrooks.ca/tour-dates/ for current touring schedule.
2013 Kerrville Folk Festival Mainstage
Signed by Borealis Records, 2012
Nominated: Canadian Folk Music Award - Songwriter of the Year, 2007, 2009 & 2012.
Chosen for Folk Alliance, Midwest Juried Showcase, 2012
2011 "War Resister" included on Folk Alliance International's War And Politics CD
Winner: International Songwriting Competition, 2010
Winner: Kerrville New Folk Contest, 2010
Featured on Neil Young's Livingwithwartoday website
Finalist in the Music2Life Contest (run by 'Paul' of 'Peter, Paul & Mary' fame)
2010's People To Watch - The Toronto Star
Winner: US National Public Radio's Mountain Stage New Song Contest, Canadian Region, 2009
Winner: Ontario Council of Folk Festivals 'Songs From The Heart Award', 2007

"You speak and sing words that need to be spoken and sung and you do it beautifully, perfectly, and with absolute finesse."

Rod Kennedy, Kerrville Folk Festival, TX

"Toronto's Jon Brooks stands among an exalted few in the enduring Canadian song tradition – Leonard Cohen, Joni Mitchell, Neil Young, Fred Eaglesmith, Bruce Cockburn – as a lyricist, composer and performer with a fierce commitment to his craft and his vision."

Greg Quill, Toronto Star
RPM is proud and delighted to exclusively represent: Jon Brooks (US), Correo Aèreo, Laura Fuentes, Peggy Seeger (US) and Si Kahn for 32 years!
Real People's Music has specialized in diversity and multicultural programming since 1975. Please contact Josh Dunson at rpmjosh@aol.com or 708-386-1252 for materials, audition / media CD and performance video.
High resolution pictures of our artists are available for download!
(click on the Gallery Pictures for the full size JPEG).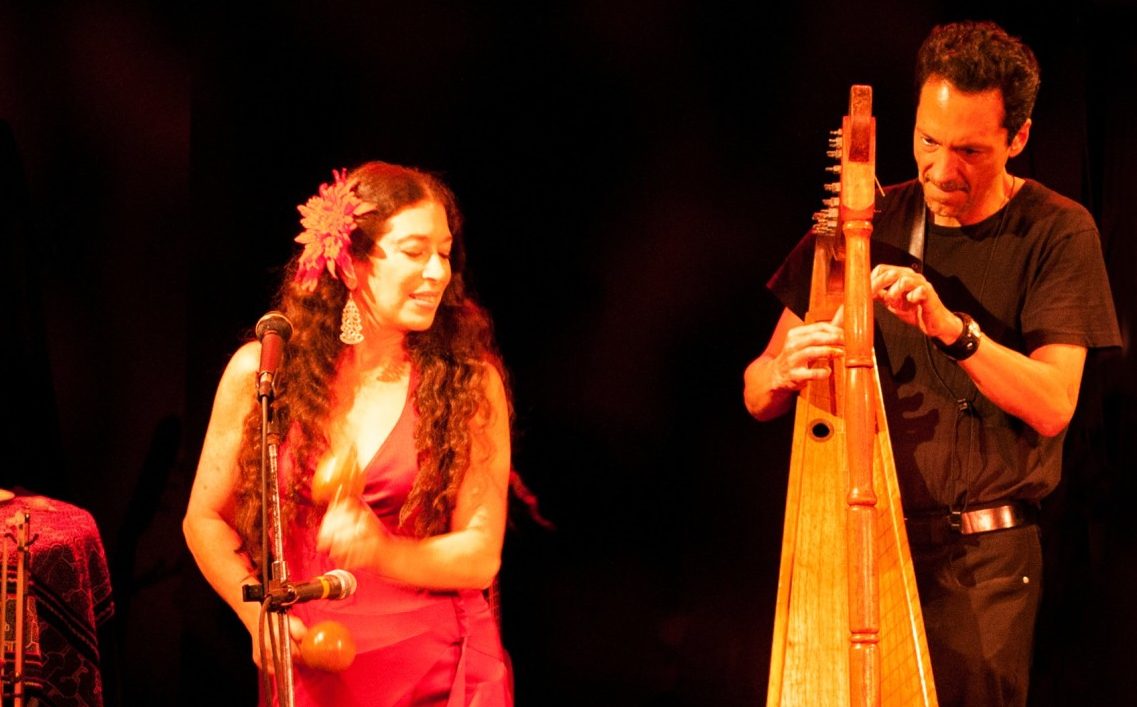 Photo by Michelle Bates
Correo Aèreo is an award winning multi-instrumental and vocal Latin/World music duo. Performing traditional music of Venezuela, Argentina & Mexico and organically innovating original work with soul, Correo Aèreo combines a stunning array of string and percussive instruments with silken vocal harmonies.
Brilliant revamped web site: www.correoaereo.com
Midwest Latino Heritage Month Tour now booking! Contact Josh Dunson for more information.
Los Lobos' David Hidalgo has often stated that to play harp extremely well you most often cannot play other instruments. Abel Rocha calls that wisdom into question since his considerable skill on the harp is matched by his flying fingers on quinta huapanguera, guitar and cuatro. His high, affecting vocal attack often soars above Madeleine's lower register, singing in a startling and affecting reversal of traditional male female harmony...the musical skill of this couple complements the impressive reach of their pan-hispanic musical repertoire and marks Correo Aèreo as one of the most exciting acoustic ensembles to appear in many years.
Dirty Linen Magazine
"Musically, a Correo Aèreo performance is like stepping through a doorway into another time and place... Together, their vocal harmonies are locked in carnal embrace, though it's Abel's plaintive cry, sung with an expression that mixes pleasure and pain, that's positively bewitching. As the couple trades longing glances, their sensual yet buoyant music dances gaily about a gently percussive beat and uplifting melodies. It's hard not to lose yourself completely in the quiet passion of this subtly dramatic music...Correo Aèreo was conjuring up musical spells...(their) magic was too strong for me. I never had a chance.
Austin Chronicle
New!
| | |
| --- | --- |
| | In their first new CD release in twelve years, Semillas de Inmensidad / Seeds of Immensity, Correo Aéreo, Abel Rocha and Madeleine Sosin perform the roots music of Argentina ("Chacarera Santiagueña", "Cosechero" and Atahualpa Yupanqui's "Los Hermanos"), Mexico ("El Jarabe Loco" "Guendanabani" and "Ti Feo"), and Venezuela ("Periquera" and "Playa Grande"). |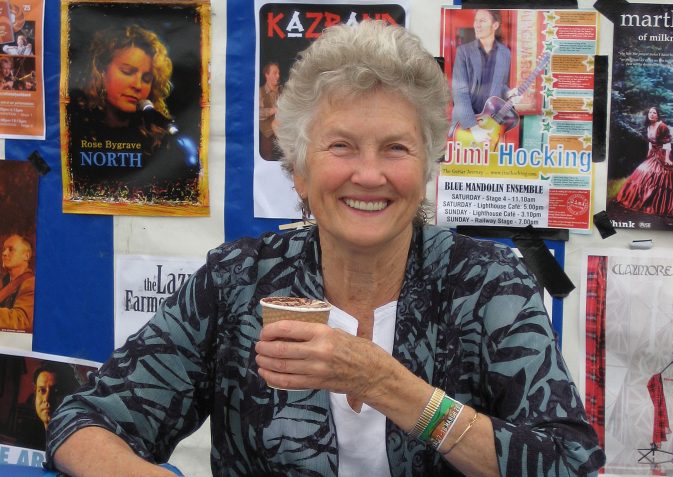 Below is an excerpted review of Peggy Seeger's 70th birthday concert. Peggy and RPM are looking for producers to sponsor an 80th birthday concert including North American friends who could fill New York's Carnegie Hall in June 2015. Please contact Josh Dunson.
American-born folksinger Peggy Seeger first achieved renown in Britain-where she lived and performed more than 30 years with her husband/ singer/songwriter/folklorist/teacher Ewan MacColl. Since his death in 1989, she has lived in the States. In May 2005 she returned to England to celebrate her 70th birthday and gathered together an amazing group of traditional players and singers including members of her own family. Three Score & Ten documents this joyous concert with two CDs full of great songs and special memories. Seeger is a master musician in her own right, switching easily between guitar, banjo, concertina, piano and autoharp as well as leading or being part of all the evening's vocal chores. She's also a genial and warm master of ceremonies. She began the evening with an American version of "The Hangman," performed solo before filling up the stage with her famous friend. Pretty soon, Eliza Carthy was playing fiddle on the "Fiddling Soldier," while Seeger's sons Neill and Calumn MacColl joined in on "Logan County Jail." Carthy's parents, Norma Waterson and Martin Carthy added their rich voices to "Che Guevara," "Lowlands of Holland" and "Home Sweet Home. " Martin Carthy provided his distinctive guitar to the Humors of Bandon." Also on hand to lend instrumental support were accordionist Graham Henderson and percussionist James McNally. The evening's first set ended with a wonderful duet between Seeger and Billy Bragg on her ode to women's independence, "Darling Annie" before Bragg led the cast through a rousing rendition of the pro-union song "If You Want a Better Life." Part of the review of Three Score & Ten. Lahri Bond August - September 2007. Read the complete review.
New!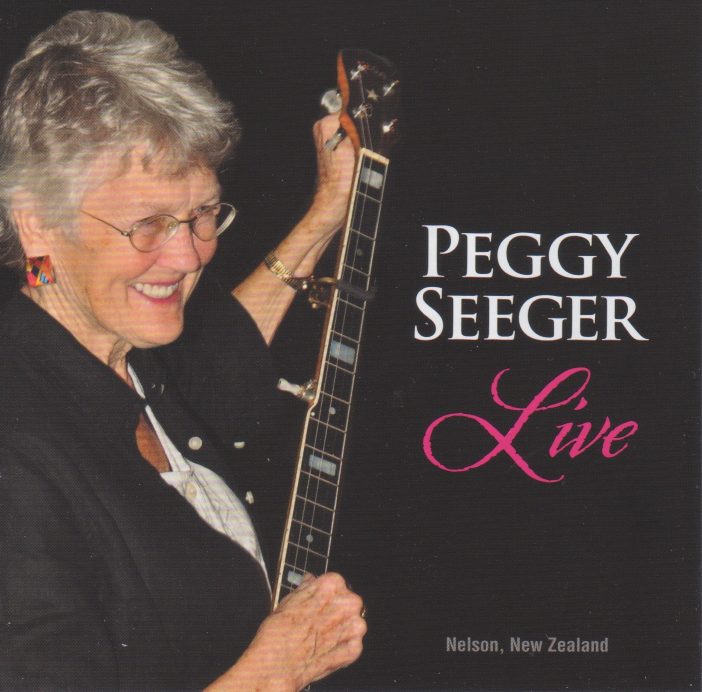 From the February 27, 2010 Nelson, New Zealand Women's Center brilliant benefit concert. An early review follows:
As the list of still active veteran artists continues to dwindle through inevitable attrition, we become increasingly grateful for those who persevere. Invariably, that gratitude is compounded when the artist in question not only perseveres, but does so while continuing to expand as an artist and build upon their respective legacies in the process. . . .True to form, Peggy Seeger has to date carved out a most impressive track record for herself via her solo endeavors, as well as the aforementioned collaborations with Mike Seeger and her late husband, composer Ewan McColl. Happily, Peggy Seeger Live succinctly yet decidedly celebrates those numerous triumphs via her ability to bring to the table her respective strengths as vocalist, composer, arranger and instrumentalist on an "as needed" basis.
To that effect, Peggy Seeger Live begins with a fairly faithful excerpt from Ludwig von Beethoven's Moonlight Sonata, which simultaneously showcases her capability as a pianist, as well as her not so paradoxically genial and acerbic wit, which is used therein to salute both her mother and late brother. That unlikely combination is nonetheless endearing primarily by virtue of her frequently self-depreciating asides, which she briefly defers to in that same passage with a somewhat subjective assessment of her proficiency on the instrument. It is that rapier-like wit, as well as her highly discerning turn of phrase and remarkable ability as an instrumentalist (particularly evidenced in her sublime guitar work on You Don't Know How Lucky You Are) that serve her admirably throughout the proceedings. Whether it is the wry social commentary of I'm Gonna Be An Engineer, Call Me Black and Fatal Flower Garden or the timeless exuberance of Bought Me A Cat and the uptempo workout, Sally Goodin/Sourwood Mountain, Seeger is unerringly in command of the proceedings. She is aided throughout by Bob Bickerton, Nathan Torvik and project producer (and long time partner), Irene Pyper-Scott, who also provides superb vocal accompaniment on Fatal Flower Garden.While it might seem difficult to summarize so vast and impressive a legacy into a single album, Peggy Seeger Live nonetheless serves as both a representative sampling of her most enduring attributes as a musician, while in turn inspiring further investigation. In the words of one of her earlier triumphs, Peggy Seeger remains On The Edge. In turn, those of us who are the beneficiaries of her tireless endeavors do indeed realize how blessed we are.
Michael McDowell
Editor/Publisher Blitz Magazine
Since 1975 - The Rock And Roll Magazine For Thinking People
The Shape Of Things To Come column
---
Learn more by reading about us, visiting the pages of the performers, or by reading our newsletters.
You can also contact us for queries and requests.
---
Designed & Managed by Peter Chan
Copyright© 2002 Real People's Music
This page last updated: November 26, 2013