How was the traditions week at Common Ground on the Hill?
Journal in a Nutshell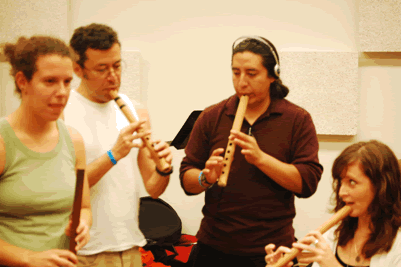 SOUTH AMERICAN ENSEMBLE
Tom, Ana Ce, Amy, Jacinta, Justine, Maaret, Jeanne and Dr. Loco (José Cuellar) join us for our first class. Pedro and I introduce the sikus (Andean pan pipes), quena and quenacho (Andean bamboo flutes), guitar style and Spanish & Quechua singing. Students chose their instruments and began to learn a Bolivian huayno. Tom has been told he'll never be able to play because he has "angel lips," but he is determined, and the person who told him he can't is deemed "full of shit" by Common Ground executive director and musician, Walt Michael.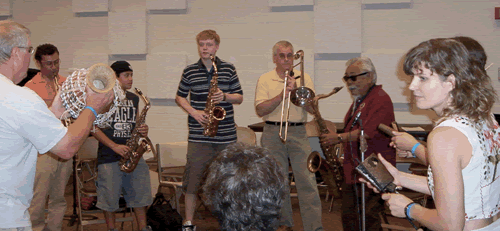 In LATINO BAND class later in the afternoon, led by Doctor Loco, we begin to prepare dance repertoire along with students and professional musicians Patricio Acevedo, Venissa Santi, and other very talented players.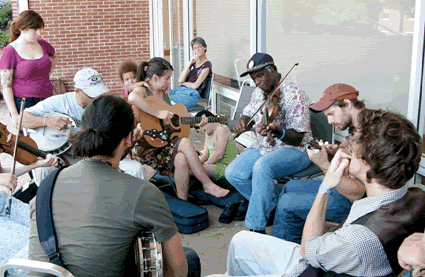 THE FEELING ALL AROUND CAMPUS is celebratory. Here, a jam session, there a jam session. Staff concert includes brilliant performances by a Quebequois group and a bluegrass band. We had a living room jam with Mark Schatz on banjo, Eileen on percussive dancing, Dr. Loco on chicano accordian… fun blending all this with our South American instrumentation and singing with Venissa, Patricio and Pedro.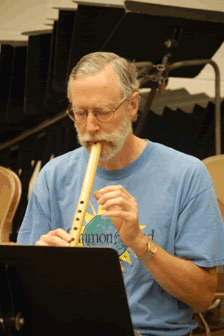 Day Three: Tom is proving Walt Michael right, mastering the notes on the sikus and beginning to get the sound he's after. A new arrival, Alex, from México has joined us and is on the fast track towards playing the quena. We're also splitting the sikus now, so each partner in a pair plays every other note. This should be difficult, but some students find it even easier than playing alone. We have our charango now that United brought our luggage, and the one Tom brought is getting re-stringed by Pedro.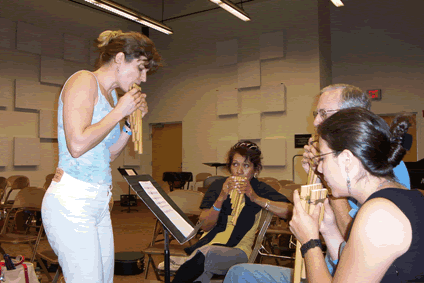 I'm sitting in on Venissa Santi's class on Afro-Cuban singing. Supposedly, I'm there to help, but I'm really just enjoying learning along with the class.
The Latino band is adding Pedro's composition, a very danceable merengue called "Las Cosas Son Como Son" (Things Are How They Are) which was originally written for a stage play in Chile.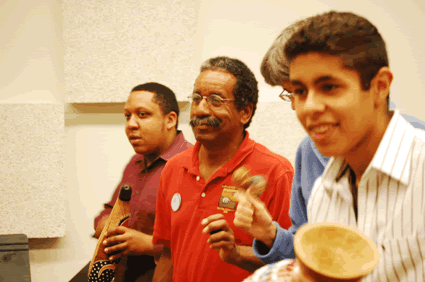 We've shared music, conversation, laughter, meals, dances and concerts with folks from Scotland, Quebec, France, Mexico, and Americans with roots in Africa, Ireland, Cuba, etc… Babies, kids, a wild clique of teens giving each other wheel chair rides and making trains, grown-ups and really, really grown ups. There's gospel choir, blues, sculpture, tai chi, every kind of dulcimer, guitar or mandolin imaginable, weaving, painting, dance...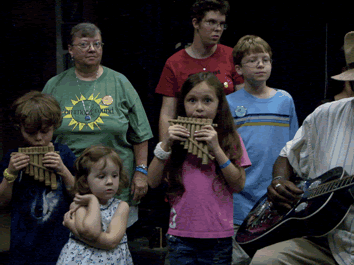 Ayin spends days in the children's WORLD VILLAGE, with great musicians like Tony Ellis, Mike Baytop, Barry, Kate and Gus who have helped him make his own panpipes, play and sing "You are my Sunshine" on the pipes and dulcimer. He knit a bracelet, bound a notebook, wrote poetry, made a book bag, and learned body percussion. "Tom, Tom, Greedy Gut" is his favorite hand slapping rhyme. He learned to pronounce "Pah". As in "ooh, ah, I wanna piece of pah". Now he speaks Chilean, Midwestern AND Southern!
Day Five: Pedro, Venissa, Patricio and I have been creatng new arrangements of songs. There's never enough time! Steve Bloom, a world percussion master, and great guy joins us, and lassoed upright bassist Ralph to join us on several songs.
We did a staff concert with our newly formed sextet and spent the next day blushing at all the effusive and emphatic compliments from our new friends and neighbors at Common Ground on the Hill. CD sales are further evidence of the connection built from stage that night.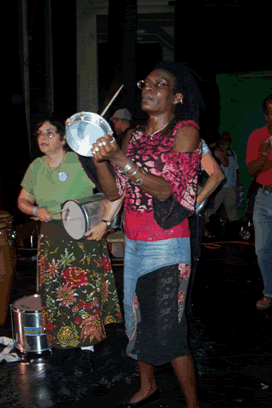 We joined a class on peaceful activism where we saw a fascinating documentary on Chile's long, difficult and finally successful popular resistance to the military regime of the 70's and 80's. Our presence, especially Pedro's brings the point right home to the classroom when we're asked about our personal experience of the process. It's good to remember the accomplishments. The U.S. has some great history of civil progress that is also good to remember and too easy to forget.
Day Six: At the amphitheater in the woods, Pedro and I take turns with U.S., Canadian and Latin style guitarists in an intimate and warm round robin performance.
Next, we're with Venissa and Patricio group where I join her in a duet of Violeta Parra's "La Jardinera" accompanied by all our new friends.
After being blown away by Mark and Eileen's group "Footworks" (about 8 performers of every kind of percussive dance – very cool!) we take over the mainstage to play music from my last CD, songs by Pedro and a special spotlight on Venissa Santi whose new CD is a must-hear. The mainstage concerts continue with Walt Michael's group of guitars, dulcimers, fiddles, vocals and stories; and ends with a reunion between Doc Watson and Jeanne Ritchie that has the audience reverently mesmerized.
---
Designed & Managed by Peter Chan
Copyright© 2002 Real People's Music
This page last updated: January 29, 2012