Quotes and Review
Mike and Peggy Seeger's Final Encore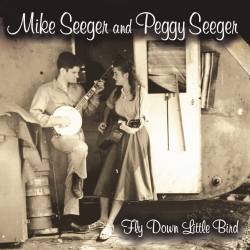 Album cover detail (courtesy Appleseed Recordings)
Mike Seeger and Peggy Seeger
Fly Down Little Bird
Appleseed Recordings
Out this week, Fly Down Little Bird is a fun collection of tunes the Seeger siblings grew up on. They were one hell of a musical family. Daddy Charles Seeger was a New Deal folklorist and musicologist. Their mom, Ruth Crawford Seeger (Charlie's second wife), was a composer and pianist who served as transcriber of John and Alan Lomax's field recordings of old-time American music—which meant that these kids had unbelievable firsthand exposure to their nation's cultural currency. Both started playing young and mastered many an instrument. They lived in suburban Maryland, where the likes of Leadbelly and Woody Guthrie might drop in for a visit from time to time. Not to mention their older half-brother, the one and only Pete Seeger, still kicking at 91. Okay, yeah, I'm jealous.
Peggy, a veteran folkie with a voice like honey slightly crystallized, is now 75. Mike, who passed on in 2009, was a multiple-grammy-winning player of the banjo—and, well, you name it—who was best known for the influential New Lost City Ramblers, a band he cofounded in the 1950s. Lucky thing that he and Peggy had already recorded these songs as part of an on-and-off lifetime collaboration starting when the young pair teamed up to play local square dances. (Check out "Red River Jig" for a taste.)
Lovers of old-time music will totally enjoy these songs. You might even recognize a few from your kids' CDs, although they weren't written for children. A lot of popular music from early in the last century bore an earnestness or an implicit corniness that draws kids like moths to a flame. "The Dodger Song," a ditty about deceitful politicians, lawyers, doctors, and just about everybody else, is delivered in a lighthearted kid-friendly way. "Fod!" is chock full of goofy nonsense (fod?) that would crack up any six-year-old—and made me laugh, too. And I've personally entertained preschoolers with the silly "Janie Jenkins."
There's also some period stuff here you'll may need to explain to the children, like "Big Bee Suck the Pumpkin Stem," where Mike Seeger sings: Big bee suck the pumpkin stem, little bee make the honey / Black man hoe the cotton patch and the white man tote the money. And on "Where Have You Been, My Good Old Man," a wife's upbeat interrogation of her hubby, Mike Seeger plays the geezer with a voice so gruff that you feel a little sorry for his wife.
"Old Bangum" would be familiar to any kid raised on Dan Zanes, or for that matter Pete Seeger or Doc Watson. It's the darker, grittier precursor to "Froggy Went A' Courting"—Old Bangum dead went out and ride, sword and pistol by his side—and it's pleasantly weird, at that. In this version, the fair maid refuses Old Bangum's marriage proposal until he goes off and slays a bone-grinding, blood-sucking bear in yonder woods.
All told, these 14 songs will bring listeners back to what some folks like to think of as simpler (read: better) times. But for the most part, that's just another fairy tale. Probably best to skip the nostalgia and enjoy the music.
Michael Mechanic
Mother Jones blog
Mon Mar. 21, 2011 4:00 AM PDT
Mike and Peggy Seeger's New CD - Fly Down Little Bird
It is hard to imagine any two children growing up in America being more thoroughly exposed to traditional American music than Mike and Peggy Seeger. Their parents, Charles and Ruth Crawford Seeger, were deeply involved in folk music and worked closely with John and Alan Lomax, beginning in the 1930's, to help transcribe and publish the folk songs that were being collected around the time of the Great Depression.
Mike Seeger devoted his life to discovering, preserving, promoting, playing, and singing old time country music. He eventually settled in rural Rockbridge Country, Virginia - near Lexington, with a view of the Blue Ridge Mountains across the valley to the east. As a young woman, Pegger Seeger moved to England and has spent most of her life there involved in politics, songwriting, making music, and raising a family.
In 2008 Mike and Peggy got together for a project to record some of their favorite childhood songs, arranging and recording them in a style similar to the way they learned to sing them at home with their parents. Most of the recording was done in Mike's home, a setting that allowed them to capture the simple beauty of their voices and acoustic instruments. Mike passed away in August 2009 but Peggy and Alexia Smith, Mike's widow, completed the project and have produced a wonderful album of traditional songs entitled Fly Down Little Bird.
These are the last recordings that Mike made and he and Peggy have left us with a rare memento of Mike's life and devotion to traditional music. Almost every type of folk song imaginable is represented on Fly Down Little Bird: songs of love, jealousy, broken hearts, political and social injustice, memories of home, dreams of heaven - and one lively fiddle tune.
The fourteen tracks on Fly Down Little Bird include some familiar songs such as "Cindy", "The Farmer is the Man", "Jennie Jenkins", "My Home's Across the Blue Ridge Mountains", and "Little Birdie" - all beautifully sung as you would expect from siblings who first sang the songs together as young children some seventy years ago.
Other songs are less familiar and are truly a pleasure to discover. Two of my new favorites are "Blood Stained Banders" and "Big Bee Suck the Pumpkin Stem". I was surprised to learn, after a little on-line research, that "Blood Stained Banders" is an early Nineteenth Century spiritual. Ruth Crawford Seeger transcribed the song for American Folk Songs for Christmas as "Don't You Hear the Lambs A-Crying". It has been recorded by a number of artists under a variety of titles, including "Good Shepherd" on the Jefferson Airplane's 1969 album Volunteers.
"Big Bee Suck the Pumpkin Stem" is an interesting title that initially called to mind Mike's way of joking about risque songs with a "triple entendre", as opposed to the more common "double entendre". However a review of the lyrics reveals that "Big Bee" really is a song of social injustice, "Black man hoed the cotton patch and the white man took the money." Mike's fiddling and Peggy's playing on a nylon strung banjo represents one of the great sounds of American traditional music.
Those inclined to research the original sources of these lesser known songs will be pleased to know that that the liner notes provide original sources for all but the most well known songs, and complete lyrics are available at Peggy's website. According to the liner notes, the original source for "Big Bee Suck the Pumpkin Stem" is Francis Harper's recording of Jack Mizell in 1944 in the Okefenokee Swamp region of Georgia. For anyone interested in hearing the source recording, Harper's original field recording is located in the Library of Congress, along with a number of other recordings he made of Mizell and other singers and musicians in the Okefenokee Swamp region.
The combination of Mike and Peggy singing together is especially pleasing throughout the CD, with Peggy's voice adding a sparkle to Mike's more deeply textured singing. The first track, "Old Bangum", is strong evidence for a belief in the magic of sibling vocal harmonies. "Jennie Jenkins", a favorite play-party song, is even more special with the combination of Mike and Peggy's voices, as is "Little Birdie", which Mike recorded solo on Southern Banjo Sounds.
Fans of Seeger family music will not be surprised at the variety of instruments on this recording. Mike and Peggy play banjo, guitar, piano, fiddle, mandolin, lap dulcimer, harmonica, and Leo Lorenzoni adds string bass to another play-party song, "Fod!". Peggy's piano accompaniment, something not frequently heard on modern recordings of traditional music, provides excellent rhythmic support to several of the songs and to the lone instrumental fiddle tune, "Red River Jig".
Fly Down Little Bird will be released on March 22, 2011, on Appleseed Recordings. I highly recommend that you go right out and get this CD, put on the headphones, and sit down with liner notes in hand to enjoy a special treat.
Tim McElhannon
Posted onMarch 20, 2011 at 1:14pm
View Tim McElhannon's blog
Music Review: Mike Seeger and Peggy Seeger - Fly Down Little Bird
© 1998-2011 Seattle Post-Intelligencer
Tuesday, March 8, 2011
If your last name is Seeger, the chances are you have a connection to folk music, and such is the case with Mike and Peggy.
Siblings Mike and Peggy Seeger are the half brother and sister of folk legend Pete Seeger. While they may not have had the commercial success of Pete, they remained just as committed and passionate to the presentation and preservation of folk music as their brother. They have traveled different life journeys, yet every once in awhile, they came together to explore their love of traditional folk music.
Mike passed away during 2007. He was content to live in the southern United States. He was a multi-instrumentalist who maintained a lifelong affinity for folk songs. He was a collector who archived hundreds and probably thousands of songs during his lifetime. He released dozens of albums, both as a solo artist, and with his New Lost City Ramblers. Every so often, he and his sister would record together.
Peggy's life took a different path. She relocated to England for decades as a result of her 30-year marriage to Ewan McColl. While he was a songwriter, performer, poet, and playwright, it was as an activist that he made his mark. Peggy Seeger was his soul mate, as leftist politics and activism were an important part of her life. Since his death, she has entered into a new relationship, taught at Northeastern University, and lived in England to be near her children.
The music contained here are the songs of their youth, from the late 1920s to the mid-1940s, and whose roots probably go back long before that. The instrumental backing is sparse but true to the folk tradition. Banjo, guitar, piano, fiddle, harmonica, and dobro all help to present the music as authentically as possible.
The Seegers make no apology for their music. There are stories of love, travel, and people from a bygone time. While the production is crisp, the music reflects the era it represents. Songs such as "Where Have You Been My Good Old Man," "My Home's Across The Blue Ridge Mountains," "Jennie Jenkins," "Red River Jig," and 10 more are all nice introductions to an underappreciated music form.
My favorite track was "The Dodger Song," which has some biting and sarcastic commentary about farmers, lawyers, doctors, and merchants, among others.
Fly Down Little Bird is a final gift from the duo of Mike and Peggy Seeger. Peggy Seeger writes in the liner notes: "So here are 14 of our old familiar songs, easy to sing along with, fresh from 70-odd years of our knowledge of them. Carry them along–they are life companions."

By DAVID BOWLING
BLOGCRITICS.ORG
View the original article on blogcritics.org
APPLESEED MIKE SEEGER & PEGGY SEEGER/Fly down Little Bird: If you never enjoyed songs l like "There's a Hole in the Bucket, Dear Liza", never went to a hootenanny at the Circle M ranch or don't know who Norm Peligrinni or Ray Nordstrand are, you might not get why this is such a lovely album and why Jim Musselman deserves a round of applause for making and acquiring albums that need to be made---but that's your loss. A year before being taken by fast acting cancer, these two Seeger sibs got together, rolled tape and traipsed through songs of their youth they enjoyed then and enjoy now. A purely heartfelt traditional folk record that over rides all the clichés and delivers the goods, this should be a sure category Grammy winner if Pete doesn't bring out anything this year. It doesn't get any more honest and down homey than this and it's a lovely look at a lost art. Check it out for a wonderful journey through the south and the mountains. A winner all the way.
Chris Spector
Midwest Record
www.midwestrecord.com
www.myspace.com/midwestrecord
Goodbye
Folk legend Peggy Seeger is leaving Boston, but she's not slowing down
A sked how she would describe her long, rich, and profoundly important career, Peggy Seeger is stumped. "Whoo,'' she says, and "Oh, my.'' Then the 74-year-old folk singer answers slowly, intimately.
"First of all,'' says Seeger, who is returning to Britain after living in Boston for four years, "I take utter and complete pleasure in singing the songs. One of the nicest things about folk songs is that I can sing them by myself, wherever I am. And the words and music are so completely physically satisfying to me that you just want to share that. Essentially what you're trying to do is wedge these songs into other people's heads, the way they're wedged into yours.''
Peggy Seeger, song-wedger. It is revealing that she presents herself this simply, and not as the musical revolutionary she is.
Seeger, who gives a farewell concert tomorrow night at International Community Church in Allston, began her career in the early 1950s, when female musicians were still expected to perform in chiffon gowns, singing daintily while the menfolk played the instruments. But she was a multi-instrumentalist, accompanying herself on guitar, banjo, dulcimer, autoharp, piano, and concertina. And her haunting, silk-and-steel voice was anything but dainty.
She played a pivotal role in launching folk revivals in the United States and Britain; helped popularize Appalachian folk music; wrote folk ballads so organic, like "The Ballad of Spring Hill,'' that many believe they're traditional, and political songs that are sung on picket lines and at protest rallies. In one of musical history's sweetest serendipities, she is both the author of the song that helped launch the feminist movement, "Gonna Be an Engineer,'' and the subject of Ewan MacColl's adoring love song, "The First Time Ever I Saw Your Face.''
She was certainly to the folk manner born, raised in the Seeger family with musician brother Mike and famous stepbrother Pete. Her parents were ethnomusicologist Charles Seeger and Ruth Crawford Seeger, an acclaimed modernist composer who wrote brilliantly simple transcriptions for seminal folk songbooks by John and Alan Lomax, B.A. Botkin, Carl Sandburg, and her own children's books.
"I just osmosed folk music,'' Seeger says with a laugh. "It was sponged onto me as a child. There were no radios or televisions in our home, but you could always hear music. My mother taught piano, so there was always someone playing in the daytime. And in the evenings, there was lots of piano playing or singing, and people visiting, like Woody [Guthrie] and Lead Belly [Ledbetter].''
After two years at Radcliffe College in Cambridge, Seeger rambled through Europe. Folklorist Alan Lomax was trying to create a British version of the Weavers, Pete Seeger's hugely successful folk group, and asked her to join. The band bombed, but introduced her to MacColl, the British folk lion.
"I met Ewan on March 15, 1956, at 10:30 in the morning,'' she says, the love palpable in her voice. They were together until his death in 1989, raising three children, performing as a duo, and collaborating on nearly everything.
"It was a partnership from the beginning,'' she says. "There were dire predictions, with him being 20 years older, but we worked well together. We were total opposites in so many ways, but maybe that was part of the fascination.''
In 1970, Seeger wrote "Gonna Be an Engineer'' for a satirical revue. In it, a woman dreams of a career, meeting resistance at every turn: "No, you only need to learn to be a lady / The duty isn't yours, for to try to run the world / An engineer could never have a baby / Remember, dear, that you're a girl.''
She wrote it in two hours, and says it wasn't about her. She never wanted to be an engineer, and "nobody ever told me I couldn't do things.''
The song spread like wildfire. She was soon being invited to sing for feminist groups, scurrying to fill her repertoire with more feminist songs. Female musicians all over the world had the same experience after hearing that song.
"Sometimes a song puts an idea in the air,'' says women's music pioneer Holly Near. "Peggy wrote that before I even knew I was a feminist. She sang about the things that go on in women's lives at a time when we couldn't imagine those 'little things' were important enough to sing about, because we didn't think we were important enough. Her song said, yes, you are.''
Seeger has lived in Jamaica Plain since 2006, but is returning to Britain, where her children and seven grandchildren are. But she has no plans to slow down.
"I am 75 this year,'' she says, "so I reckon I've got about five more years of galloping around — unless somebody wants to advertise me as the only 81-year-old banjo player on the go.''
She means it as a joke, but the smart money is that Peggy Seeger will soon be cracking open another glass ceiling.
Scott Alarik
Globe Correspondent
April 16, 2010
The third in a trilogy of traditional folk songs recorded in England with the children of her late husband, Ewan MacColl, Bring Me Home features Peggy Seeger's expressive, unadorned vocals in stark arrangements that compliment the power of old tunes like Peacock Street, Hang Me and Molly Bond.
She sings those without accompaniment, but tunes backed by Seeger's banjo, guitar and concertina are equally compelling and dramatic.
Her son Neill's contributions on autoharp, guitar, and mandolin add some lovely touches, as does his brother Calum's guitar and backing vocals.
It's hard to pick out highlights from such a rich collection of performances, but I've got a soft spot for her version of Dink's Tune.
By the time Peggy Seeger completes this 13-song cycle with her original title track, you've experienced a revelatory canon of American folk music.
Joseph Blake
Times Colonist
April 16, 2008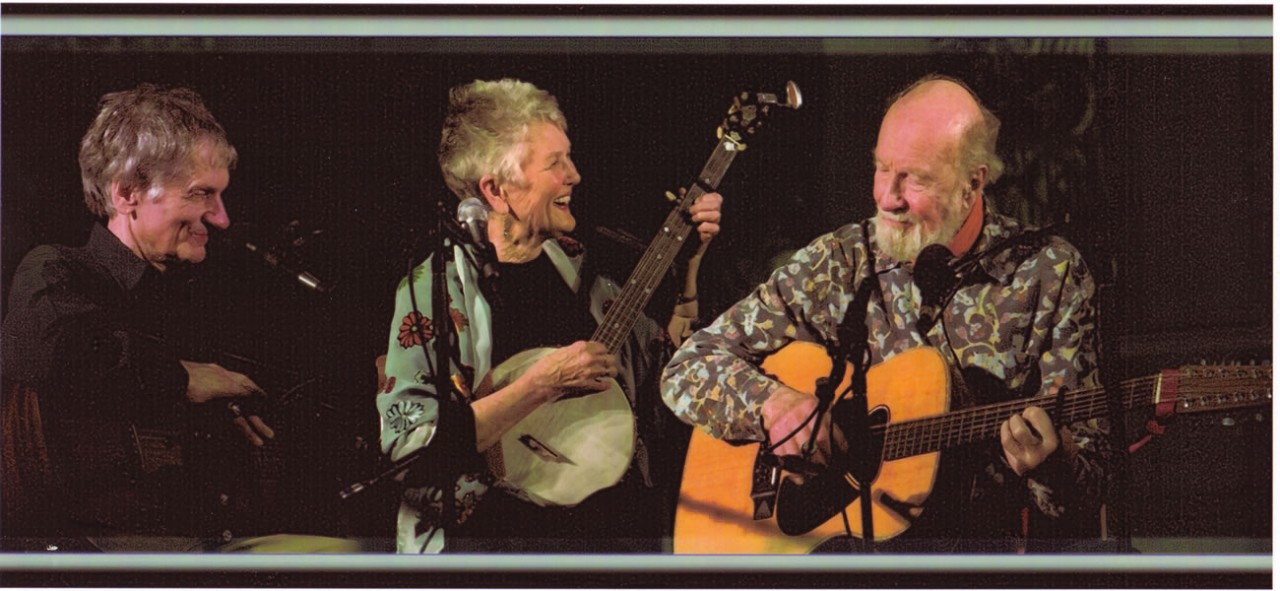 Mike, Peggy and Pete Seeger at the Folklore Society of Greater Washington March 2007 Concert.
American-born folksinger Peggy Seeger first achieved renown in Britain-where she lived and performed more than 30 years with her husband/ singer/songwriter/folklorist/teacher Ewan MacColl. Since his death in 1989, she has lived in the States. In May 2005 she returned to England to celebrate her 70th birthday and gathered together an amazing group of traditional players and singers including members of her own family. Three Score & Ten documents this joyous concert with two CDs full of great songs and special memories.
Seeger is a master musician in her own right, switching easily between guitar, banjo, concertina, piano and autoharp as well as leading or being part of all the evening's vocal chores. She's also a genial and warm master of ceremonies. She began the evening with an American version of "The Hangman," performed solo before filling up the stage with her famous friend. Pretty soon, Eliza Carthy was playing fiddle on the "Fiddling Soldier," while Seeger's sons Neill and Calumn MacColl joined in on "Logan County Jail." Carthy's parents, Norma Waterson and Martin Carthy added their rich voices to "Che Guevara," "Lowlands of Holland" and "Home Sweet Home. " Martin Carthy provided his distinctive guitar to the Humors of Bandon." Also on hand to lend instrumental support were accordionist Graham Henderson and percussionist James McNally. The evening's first set ended with a wonderful duet between Seeger and Billy Bragg on her ode to women's independence, "Darling Annie" before Bragg led the cast through a rousing rendition of the pro-union song "If You Want a Better Life."
The second set opened with some very intimate and personal notes, as Seeger shared her tribute to her late husband, both in "Poem for Ewan" and her rendition of his love song to her "First Time Ever I Saw Your Face." She then brought the festivities into the present with the poem ":I Am Ill With Love" and the song "So Long Since I've Been Home" dedicated to her current partner, Irene Pyper Scott, who also contributed vocals and percussion to much of the evening's music. Seeger performed a loving tribute to her late mother, Ruth Crawford Seeger, a composer, arranger, pianist teacher and the first woman awarded a Guggenheim Fellowship for music.
The concert then turned to other family matters, as brother Mike Seeger came on stage to play old favorites such as "When First Unto This Country," "Soldier's Farewell," and "Quill Ditty." Pete Seeger joined his siblings for the traditional "Cindy," making this the first-ever recording of the three Seegers together. Pete performed a short solo set highlighted by a stunning rendition of "Where Have All the Flowers Gone" before Peggy treated the crowd to her signature song, "Gonna Be An Engineer." The evening wrapped up with a lovely rendition of "Careless Love," sung by mothers and daughters Norma Waterson and Eliza Carthy and Peggy Seeger and Kitty MacColl, backed by Neill and Calumn MacColl. Encores included Peggy's "Sing About the Hard Times" amd ":obe Call Me Home" dedicated to her late friend, Christine Lassiter. Lahri Bond
DIRTY LINEN
August - September 2007
This two-CD live concert recording from May 2005 commemorates Peggy's 70th birthday while painting a wonderful intimate musical portrait of Peggy's work and life. You'll get a first-hand snapshot of some of the significant contributions that Peggy (and h r late husband Ewan MacColl) made to the world- - musically and socially. Recorded in London's Queen Elizabeth Hall, notable friends and family are featured including brothers Pete and Mike Seeger and friends Martin Carthy and Billy Bragg to name just a few.
Although Peggy pays homage to traditional songs and she generously shares the spotlight with her friends and family, it's Peggy's own star that shines brightly in the performances of her own material. Peggy's indefatigable spirit still rouses and inspires us in her feminist anthem form the 70's "Gonna Be An Engineer" A special treat are Peggy's spoken word poems , including her striking rendition of "My Mother is Younger than Me" and the moving interplay of the poem she wrote for her husband Ewan and his song to her that most of us know as Roberta Flack's 1970's pop hit " The First Time Ever I Saw Your Face." Three Score & Ten is a tribute that can't even begin to illustrate the numerous and important works of this artist/activist, but I hop will motivate those who listen to dig deeper into her history and song.
Kari Estrin
Sing Out!
Summer 2007
CD Recommendation - Peggy Seeger: Three Score and Ten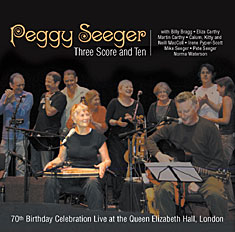 Folk music has always done a good job celebrating its visionaries and pioneers. Glancing at the CD and LP library, I can find a number of recordings of retrospectives and concerts that honor these individuals - the classic Woody Guthrie tribute concerts from 1968 & 1970, tribute concerts and recordings honoring Lead Belly, Phil Ochs, Steve Goodman, Alex Campbell, Fred Holstein and others. Some name are not as well known - but all had an influence that helped carry on the tradition.
The sad part is, many of these tributes are offered after the subject have passed on. While memorials are important, it is fitting to recognize some names while they are still with us - AND while they are still creating and sharing treasures with us. Last year I had the honor of producing a recreation of a 1956 concert that honored the music and life of Woody Guthrie. The original production was the first "revue" of it's type, and the gathering of talent was a milestone moment of the folk revival as well as an event that helped galvanize the image and quality of work that Guthrie created.
Now we have the opportunity to recognize another individual who I feel has not received the credit she deserves - Peggy Seeger. On the occasion of her 70th birthday in 2005, family and friends gathered in London for a concert that celebrated the music and life of Peggy Seeger. Appleseed Records has released a two CD set recording of the event called "Three Score and Ten".
Beyond a doubt, Peggy Seeger is a national treasure. Perhaps I should say "international" treasure since her music and work had a significant impact on the folk music scene. Taking it a step further, Peggy Seeger has also been an important figure on social and political music scene. Her songs have grown beyond the folk world to become part of the fabric for a number of social movements, such as the feminist anthem - "I'm Gonna Be An Engineer".
Peggy Seeger has inspired other songwriters to write about important issues. She is also one of the most charming performers that has ever graced a stage. Her wit and warmth captivates an audience. There must be something in the Seeger genes because the same trait can be said about her brother Mike and her step-brother Pete.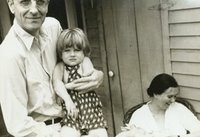 Charles Seeger, Peggy (age 2) and Ruth Crawford Seeger
Peggy is the daughter of the late ethnomusicologist Charles Seeger and his second wife Ruth Crawford Seeger - a composer, arranger, pianist and the first woman awarded a Guggenheim Fellowship for Music. She grew up around a incredible world of music. In addition to her parents lineage, Peggy's nanny was none other than Elizabeth Cotton, a brilliant guitarist and composer of songs such as "Freight Train".
Peggy and Mike Seeger at Swarthmore 1955
It seemed as if Peggy's life would circle around music. As a young adult, Peggy spent two years studying music at Radcliffe before deciding to head to Europe to become a professional musician in 1955. Her fate was sealed on March 21, 1956 at 10:30am when she first met Ewan MacColl in London. Yes, she remembers the moment which Ewan also documented in his song "The First Time Ever I Saw Your Face" - a #1 hit for Roberta Flack in 1972 and also recorded by numerous other artists.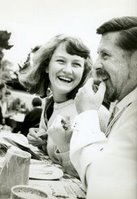 Peggy Seeger and Ewan MacColl at Newport Folk Festival 1960
With Ewan, Peggy would spend the next 30 years of her life as a partner in life and professionally. Together they explored traditional music and the connection with social/political songs. One of their most recognized projects was a radio documentary series called "The Radio Ballads". Each program explored a different topic of social relevance by blending traditional and original songs with spoken word actualities based on the subject. (The landmark series is available on CD from Topic Records.)
Ewan and Peggy were also involved with a controversial theatre group, they ran their own record label, and they organized and operated one of the U.K.'s most important folk venues - The Singers Club. They also found time to raise three children.Ewan passed away in 1989. Peggy continues to perform and now shares her life with Irene Pyper-Scott here in the U.S.
In 2005, for the occasion of Peggy's 70th birthday, a "party" was organized by her three children at London's Queen Elizabeth Hall. Her family and friends gathered for the celebratory concert with a guest list including Billy Bragg, Martin Carthy and Norma Waterson with their daughter Eliza Carthy, and in a rare appearance together - Pete and Mike Seeger. (The CD is the first "official" recording of the three performing together!) The event was taped by the BBC and has become the CD that was released on Appleseed Records.
The two-CD set kicks off with the host of BBC 2's folk music radio program, Mike Harding, introducing Peggy. The first few selections feature Peggy performing several old-time folk standards - induding "Hangman" - one of my favorite songs. Peggy is in fine voice and if you shut your eyes, the years drift away to return us to simpler times. The fun is really in full swing when the guests come out to join Peggy.
Their appearances in the U.S. have been far too infrequent, so it is real treat to hear Peggy singing with Martin Carthy and his wife Norma Waterson and their daughter, Eliza Carthy. If folk music had a monarchy, this stage was graced by their presence. To think of all the performers and fans who have been influenced by this collection of musicians is staggering. One of the high points in this collection comes when Waterson-Carthy join with Peggy Seeger on her song "Che Guevara", a song Peggy wrote using the melody of the English folk song "The Banks of Sweet Primroses".
Several of Peggy's social and political songs follow including two songs that touch on a post 9-11 world- "Cavemen" and "Home Sweet Home". Peggy tells her audience that applause does not seem appropriate after a song like "Cavemen" which is a reminder to all of us that songs serve a purpose beyond entertainment. These songs become powerful tools in teaching us lessons and helping us understand a point of view that we might have overlooked. Ewan MacColl and Peggy Seeger created a body of work that served this function. Even topics that seem commonplace can be looked at differently. Billy Bragg joined Peggy for her song "Darling Annie", a song that sounds like an old dusty folk song but describes the roles of husband and wife in modern times. Billy admirably closes the first disc with Peggy's "It You Want A Better" life - an anthem-like song that inspires.
The second CD, also the second set of the concert, is a bit more personal. It begins with a moving poem that Peggy wrote shortly after the passing of Ewan MaColl which she follows by singing "First Time Ever I Saw Your Face". She then shares a poem and song that she wrote for her partner Irene Pyper-Scott. Another important figure in her life is remembered with a touching poem "My Mother is Younger Than Me". At this point, her brother Mike Seeger joins her onstage. The siblings share some memories of growing up and learning the banjo before launching into "When First Unto This Country" followed up by "Soldier's Farewell". Mike then brings out the quills and shaker to share a "Quill Ditty".
Following Mike's solo, Pete Seeger walks onto the stage to thunderous applause. It had been a few years since Pete last performed in the U.K., and it was obviously a welcome return! Pete, Mike and Peggy then team up for a rollicking version of "Cindy", and remarkably this is the first time that the trio have ever recorded together!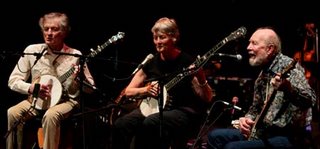 Mike, Peggy and Pete Seeger in concert, 2005 photo© Philip Ryall
Pete, sounding in fine form, shares three songs - "English is Cuh-ray-zee"(a song from Josh White Jr. based on a book by Richard Lederer) and Pete's "Take it From Dr. King". The third song from Pete is his classic "Where Have All the Flowers Gone", and you can feel the emotion that must have been swelling in the concert hall.
The tribute to Peggy reaches a crescendo with the final songs on the CD. Peggy launches into a song that is arguably her most recognizable - "Gonna Be An Engineer" - a song that has been recorded and sung by hundreds of artists. Peggy's children and grandchildren join the assembled artists onstage for a round of "Happy Birthday". The final celebratory songs bring the event to a stirring conclusion - the traditional "Careless Love" followed by two of Peggy's compositions - "Sing About these Hard Times" and a song that she wrote for a friend whose life was cut short by cancer - "Love Call Me Home".
The concert captured on this CD took place in 2005. While they could not save a piece of cake for all of us, we are given a sweet treat with this two-CD collection. Peggy Seeger "fans" will rejoice with the songs that were selected for the occasion. The joy and warmth of the event are apparent, and the powerful songs are presented without any trace of self-importance or preaching - but they will learn a lesson or two.
One of the lessons that I took away from this comes from a remark Peggy makes to the audience during a chorus of one of the final songs - "Remember to sing when there are hard times".
We are lucky to have the opportunity to share and learn from Peggy Seeger. We desperately need more people like her.
The two CD set "Peggy Seeger: Three Score and Ten" is now available from Appleseed Records - www.appleseedrec.com or from Peggy Seeger's website - www.pegseeger.com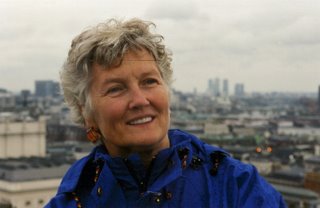 Peggy Seeger, 2005, photo by Martin Rosenbaum
Ron Olesko
Photos courtesy of Peggy's website - www.pegseeger.com
Posted at Ron Olesko's Folk Music Notebook
March 18, 2007
On May 29, 2005, American folksinger and songwriter Peggy Seeger celebrated her 70th birthday with a landmark concert at London¹s Queen Elizabeth Hall featuring members of legendary folk music dynasties from both sides of the pond: Peggy¹s brothers Mike and Pete Seeger (making this the first-ever recording of the three Seegers together); Martin Carthy, his wife Norma Waterson and their daughter Eliza Carthy; Peggy¹s three children from her marriage to Ewan MacColl (Neill, Calum and Kitty); her longtime partner Irene Pyper-Scott; plus Billy Bragg, Graham Henderson and James McNally. Now the full show ­ including amusing between-song chat and a glorious rendition of ŒHappy Birthday¹ ­ has been released as a double-CD set. This is a warts-and-all recording that doesn¹t exclude the odd flubbed lyric or bum noteŠ and that¹s part of what makes it such a lovely testament to a life devoted to music, family and friends.
Roisin Dwyer
Seven Point Five/Ten
Hot Press (Ireland)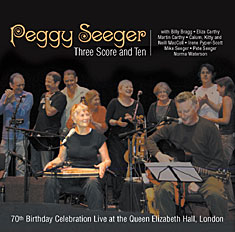 Peggy Seeger - Three Score And Ten (Appleseed)
Peggy's 70th birthday celebration, held at London's Queen Elizabeth Hall on 29th May 2005, began (in Peggy's own words) "with a wish" (for a cake!), and "a deep desire to see as many of (her) family and friends in one place as possible". Naturally (and through the good auspices of Peggy's children Neill, Calum and Kitty and her partner Irene Pyper-Scott), Peggy's wishes came true – albeit while she was still 69 (though only just!)… She says she felt born again when she "walked out on that stage and knew that so many of the people who had touched (her) life were there, ready to touch again and bawl the choruses out." And this aspect is certainly captured by the faithful recording of the event by BBC Radio 2, now given a proper release on this fine two-disc set. (Well I think it's virtually the whole concert, but newspaper coverage of the event made mention of at least one other item that's not included on the discs, so I'm a little confused.) Inevitably, Peggy dominates the proceedings, but what a presence - imperious sometimes, yes, and definitely in control (in the nicest possible way) of proceedings, but also much humbled and even awed by the presence and contributions of those so important to her. The gig was emphatically not an excuse for an exercise in arrogant self-congratulation, but a highly organised, affectionate and sincere thankyou that flows both ways between Peggy and her fellow singers and musicians (and indeed her public). If occasionally there's a faint whiff of didacticism about the event, that's not entirely inappropriate in view of Peggy's enormously influential role in the development and wider currency of folk music in all its senses over the past half-century; let's face it, she still has plenty to teach us all!…
The celebration concert covered all possible bases from the broad church of folk that forms Peggy's musical world: from the traditional ballads she so loves through to her own original compositions that so ably and memorably espouse her personal preoccupations and responsibilities, particularly in the areas of war, feminism and union politics. These songs so deserve to be more widely heard, and if this CD is regarded even partly as a taster for Peggy's songwriting then that's no bad thing in my book (folks can then go on to investigate the lovely trio of albums Peggy recently recorded for Appleseed). So finally to the performances – Peggy's cohorts did her proud, fully rising to the occasion. Some were granted solo or lead appearances, and shone accordingly without eclipsing Peggy's own personality. Memorable moments include: Cindy, on which Peggy, brother Mike and half-brother Pete perform together for the first time in decades; Che Guevara, with Peggy leading the ensemble (Eliza & Martin Carthy, Norma Waterson, Calum & Kitty MacColl) in rousing chorus; Billy Bragg's unrehearsed duet with Peggy on Darling Annie is quite touching in true downhome "all fell together on the night" fashion. There are inevitably some entirely forgivable lapses in intonation, but the charm of the performances and sense of occasion overrides any concerns of a purely technical nature here. At times Peggy even leaves the stage completely, yielding the spotlight to Norma and Eliza (for Lowlands Of Holland), and later on to Mike and Pete individually. Of course, the items which Peggy performs solo – and there are quite a few – carry an intimate resonance all their own, and the gentle power of her sharing these songs with us is well communicated even through the CD medium. And the rather special bonhomie of the final two items, Sing About These Hard Times and Love Call Me Home, is genuinely irresistible. As is the whole concert (in spite of one or two "you really had to be there" moments that you may find less-conducive-to-home-listening). Yes, these two discs are definitely to be cherished.
David Kidman
March 2007
www.pgseeger.com
www.appleseedrec.com
It's hard to imagine a better birthday bash than the one commemorating Peggy Seeger's 70th, a multigenerational London concert that served as both a family reunion and a gathering of the transatlantic folk-traditionalist tribes. Though her brothers Pete and Mike are much better known in their native America, Peggy plainly had a profound impact on British folk during her decades living in England with husband Ewan MacColl (who wrote the standard "The First Time Ever I Saw Your Face," which Peggy sings here, after first meeting his future wife). An accomplished multi-instrumentalist, a prolific songwriter, and a luminous vocalist, Peggy commands center stage through most of this two-disc set, while joined by both of her brothers, the husband-and-wife team of Martin Carthy and Norma Waterson along with their daughter Eliza Carthy, and acolytes including Billy Bragg. From the feminist anthemry of "Different Kind of Equal" and "Gonna Be an Engineer" to the pointed protest of "Cavemen" to the poems and performances she dedicates to her late husband, her late mother, and her current partner, Irene Pyper-Scott, her concert exemplifies a life well lived with love, humor, and purpose.
Don McLeese
Posted on Amazon.com
PEGGY SEEGER/Three Score and Ten: Perhaps best described as the June Carter of English folk music, Seeger celebrated her 70th birthday surrounded by her famous half brothers, her children and some of the creme of old and new English folk music. On this double disc extravaganza, Seeger and company romp through her largely feminist anthmic songbook that does a great job of conveying her message without being strident. One upping the similar Carter package simply because it was made while Seeger is alive, this is vibrant and sterling music for music fans of a certain age as well as folkies in general.
Chris Spector
Midwest Record
830 W. Route 22 #144
Lake Zurich, IL., 60047
www.midwestrecord.com
www.myspace.com/midwestrecord
EXPECT A CROWD ONSTAGE whenever the Seeger family celebrates one of its own. Turning up for folk music luminary Peggy Seeger's 70th birthday bash in London almost two years ago were brother Mike Seeger and half-brother Pete Seeger, plus an additional cast of offspring, friends and kindred spirits, including Martin Carthy, Norma Waterson, Eliza Carthy and Billy Bragg. Listening to "Three Score and Ten," a double-disc recording of the event, you get the feeling that there's always another grateful Peggy Seeger devotee waiting in the wings.
Of course, there are lots of family-brand banjo sounds from Mike and Pete, though Peggy also picks up the instrument when she isn't playing piano, concertina, autoharp or guitar. Bragg sounds perfectly at home covering her pro-union anthem "If You Want a Better Life" in a plainspoken, Woody Guthrie-like manner, while Pete Seeger deservedly steps into the spotlight for a string of tunes that includes "Take It From Dr. King." Another highlight, albeit a purely musical one, finds Carthy on acoustic guitar, bringing a soulful lilt to the traditional tune "Humours of Bandon."
The second disc, incidentally, opens on an elegiac note, with Peggy reciting a poem she wrote for late husband Ewan MacColl, best known on this side of the Atlantic for composing "First Time Ever I Saw Your Face." Seeger, who inspired that lyric, then quietly segues into a wistful, warmly affecting rendition of MacColl's signature ballad. It's among the reasons why "Three Score and Ten" seems to hold double-digit rewards.
-- Mike Joyce
Appearing with Mike Seeger and special guest Pete Seeger on Saturday at the Woodside United Methodist Church in Silver Spring.
Listen to an audio clip of Peggy
PEGGY SEEGER "Three Score and Ten" Appleseed
Friday, March 16, 2007; WASHINGTON POST
Ken Hunt's brilliant retrospective of Peggy Seeger in FRoutes, based on an interview around her 70th birthday party concert at Queen Elizabeth Hall in June 2005, can be found on http://pegseeger.com/html/frootsinterview.html.
Peggy Seeger At the Market
House, Monaghan
Working in Monaghan recently, I was pleasantly surprised to discover that Peggy Seeger was playing at the tastefully refurbished Market House. Is there not something slightly surreal about Peggy Seeger playing Monaghan! Well, maybe, maybe not - but she did cause consternation when introducing a song called Swallow & Trout. She said it was written by a Devon pig farmer and then innocently rambled into a number of jokes about pig farmers and the likelihood of them writing songs - and us only a few hops, as the pig flies, from Iniskeane and Patrick Kavanagh himself!
Born in the United States in 1935, daughter of Charles and Ruth Crawford Seeger - both musicians, musicologists and composers in their own right - Peggy Seeger was surrounded by music from birth. She is sister of Pete Seeger - Grand Old Man of American Folk - and Mike Seeger, a multi-instrumentalist. In 1956, she met Ewan MacColl in London and began a wonderful, creative partnership. Together they had three children - Neill, Calum and Kitty. Ewan died in 1989 and Peggy has since migrated back to the United States. so, the chances of seeing her in Ireland are limited.
The Monaghan gig was small, intimate, involving and encouraging. Peggy sang unaccompanied and to her own accompaniment, variously, on 5-string banjo, autoharp, concertina and grand piano. Much of the material came from a recent recording Heading For Home, material she describes as 'all but one, Anglo-American traditional pieces. The selection is classic, the accompaniments simple. These are songs with which I feel completely at home. songs which have lasted for generations and which I hope will last for generations more'.
Now, I have to admit that I am not a huge fan of this tradition or of its singing style. but I was won over on the night by a superb delivery. American material included the Mississippi song John Gilbert, a peanut and cotton boat, and another sing-along 'song about these hard times, When will the good times roll'. Not at all typically American, Seeger's views of the imminent Presidential election and on the Iraq invasion were interesting, if, for some of the audience, controversial. She prefaced a song inspired by the attack on the Twin Towers and Pentagon by reading a list of all the countries the US had bombed since the Second World War. Well, she selected from the list as time constraints were pressing. Her anti-GW song, Go Easy On Him, was vintage - angry but insightful oppositional but constructive. By now, the audience were with her and against him.
She did a few requests including her 'albatross', the classic, feminist anthem, I'm Gonna Be an Engineer. She sang songs by Aunt Molly Jackson - Peacock Street or Cross Bone Scully - and a Carolina version of Little Musgrave, having guided us through the roots of the song from Barnard Castle on Teeside in County Durham. The People are Scratching was a satirical song about resources, man's continuing stupidity, globalisation and bleak winters advancing - and it all started with killing rabbits! Old classics Love Is Pleasing and, with great echoes of Pete Seeger, the 1960s, hope and times when we really could change the world, Where Have All The Flowers Gone. It echoed the courage and persistence of radical America, the beleaguered Left. In acknowledgement of the wisdom of the Smoking Ban, she sang of a woman's revenge against an unreformed smoker in a restaurant that involved eating many beans, artichokes, leeks and cabbage - you can guess the rest!
For a woman heading for seventy, Peggy Seeger looks terrific, always striking, she engaged and encouraged her small, shy audience until we were sitting in our parlor, singing along. She is a vintage and unique performer, carrying a rare but still developing tradition. This was evidenced by her final song, Heading for Home.
Always on the move
With banner unfurled
Yet gathering moss on my stone
I sing for the children
And cry for the world
And I'm thinking of heading for home
And I'm thinking of heading for home
The song looks over the horizon - all our horizons. It induced a reflective melancholy - for ourselves, for each other, for the peoples of Iraq and Palestine, for the helpless of Darfur and shanty towns across the Third World, for the victims of AIDS, the disadvantaged, the downtrodden, the dispossessed. We thought of Joe Hill and Woody Guthrie, Leadbelly and Bessie Smith, Seeger and MacColl. Her penultimate verse brought echoes of Monaghan and our own Troubles.
The memory of love will burn in my hart,
Till the ember and the ashes are gone,
The light in your window
Will be my northern star,
And I'm thinking of heading for home.
We hummed the last verse together before she rejoined
And it's time I was heading for home
And it's time I was heading for home.
Undervalued as a songwriter - especially in the shadow of MacColl, Heading for Home is but one of scores of valuable songs that Seeger has written, many grafted onto or from the living tradition. Her themes are love and betrayal, human solitude and need for affection, as well as the broad sweeps of socialist, feminist values and ideas. I looked across the amber light of the stone, timber and whitewash Market House, heard the incessant, sleety rain on the roof an witnessed an audience enthralled, left to sing on their own and all heading for home with thoughts and emotions drawn from deep, deep wills. Great gig, Peggy!
Francis Devine
Peggy Seeger - Love Call Me Home (Appleseed)
This is a truly delightful record. I absolutely loved Peggy's last two releases on Appleseed, especially the beautiful Heading For Home (released in the fall of 2003) which formed the first instalment of a projected "Home Trilogy" (the fluid concept of "home" embracing her American birthplace, England, stages where she's performed, her physical body and the music that has shaped her career) - of which Love Call Me Home is now the second. Believe it or not, Peggy's fast approaching her 70th birthday, but on this record she sounds virtually ageless, ie every bit as fresh as she has in ages, radiating the good vibe that can only come from a singer so deeply connected to her material and displaying that innate and comprehensive understanding of the songs she chooses to sing.
Love Call Me Home is Peggy's 21st solo album, on which she again mixes old songs with new compositions of her own, of which here there are just two, bookending the album. Dealing with the latter category first, these - although highly contrasted - are particularly fine examples of homage-writing; Sing About These Hard Times is kinda based (at any rate musically) on the spiritual Down To The River To Pray, and updates the mood of the times as a contemporary response to an exhibition of artwork of the Great Depression, whereas the album's title track is a tenderly felt remembrance of a friend Christine Lassiter who died of cancer four years ago (for in the end, love calls everyone home).
The rest of the songs are traditional in origin; as Peggy explains in her liner notes: "I love new songs, yet I still find myself returning to the old ones… songs handed down to us by singers who loved and tended to them, as I love and tend to them for those who come after me." These are loving performances indeed, and tremendously affecting; they include a stark, superbly authentic unaccompanied rendition of Bad Bad Girl (a song her mother had transcribed from a 1936 recording of Ozella Jones), while the second of the unaccompanied tracks - Love Is Teasing (where Peggy uses the American melody, different from the usual English and Irish versions, which is well worth reviving) is delectable. There are also very fine versions of Rynerdine and Loving Hannah, not to mention two hanging ballads (Hangman and Poor Ellen Smith), an eerie, quite chilling rendition of Who Killed Cock Robin? and a derived playparty song (London Bridge).
Accompaniments are homely and simple, using favourite instruments like autoharp, Appalachian dulcimer, banjo, psaltery, guitar, fiddle and mandolin; musicians include two of her sons by Ewan (Calum and Neill) and daughter Kitty contributes some backing vocals. Much of the album was recorded in England in fact, five of the tracks at Calum's studio here. The whole project has a tangible and highly satisfying unity that's brought to it by Peggy's own potent and thoroughly likeable presence (the personification of a folk artist) and her inborn understanding of the repertoire, songs with which she's truly at one and at home. The press release is spot-on - for this is indeed an album that will call you (too) home.
David Kidman
Net Rhythms Magazine
On May 12, 2004, Peggy Seeger was featured at the Unitarian Universalist Church of Tampa's Concerts in the UU Dome series. As chair of the concert committee, I want to thank you for helping make this happen.
Peggy is a delight. Not only is she a wonderful artist, she's personable, down-to-earth, and very easy to work with. She's also caring and considerate. Our sound man that night was an old-time banjo player and a big fan of Peggy's. I mentioned this to her prior to the concert. She didn't forget it. After the concert was over, she more than made his day by inviting him to join her in some jamming. She had him play her banjo as she accompanied him on guitar. The two of them seemed to have a grand ole time. And for those of us who were cleaning up, we got treated to a post-concert jam as we worked.
As for the concert itself, after it was over, I got lots of hugs and verbal thank yous from folks as they were leaving. I also got written feedback which I'd like to share with you.
Jan Milner: I was absolutely captivated by Peggy Seeger. Her performance at the UU Dome was more than just a concert. It was an experience that involved and touched me. Her music is a wonderful blend of traditional and original songs.
Marbeth Bingman: ..... All week I have had on my mind to thank you for having Peggy Seeger at the dome. I'm so glad that I was able to attend her concert. What a woman! Her music spoke to my soul. I bought one CD and have listened to it every day since.
Mil Pelrine: We enjoyed Peggy Seeger VERY much. She is very talented, down-to-earth andfriendly -- a truly class act. Loved the variety of her presentation and her relaxed way of delivering it.
Gerald Strain: She made me realize my importance as an individual, and my contribution to others.
Lucy V. Parker: For me, the Peggy Seeger concert was a trip to the past -- so many coffee houses, hootenannies, and sing-alongs in the '50's and '60's, so much outrage, so much hope, so many dreams. It was a reminder of our heritage of ballads and story songs -- of our country and its roots in the Old World. At the same time, it was the present laughing at us (and with us) as we all grow older, asking where our "get-up and go has got up and went." It was the present staring us unflinchingly in the face with a song about 9-11 that mourns our dead while mourning those killed by our many bombings i the name of democracy and freedom over the past half century. No, no one walked out of that enlightened Unitarian Universalist gathering, as Peggy told us some audiences have done. We were there to hear Peggy, whatever she had to say -- Peggy switching instruments as she battles carpel's tunnel, her voice still clear, as timeless as her music, her concert an homage to the past, an insightful look into male-female and other current struggles, her demands.for peace and justice urgent and ever-relevant. "My grandson smiles at me," she recalled in her final song, "growing wiser, growing older. He swears he'll never smoke or drink or go to be a soldier. Oh, how I long for peace!"
Gloria Holloway
Chair of Concert Committee
June 9, 2004
Live Review: Peggy Seeger, Whelan's November 6th, 2002
When chance and genetics collide, anything can happen. Peggy Seeger's gene pool may have predicted a solid folk career (sister of Pete and Mike, daughter of avant garde composer, Ruth Crawford Seeger), but it was probably her electrifying encounter with Ewan MacColl that really marked her cards for greatness. Their combined passion and political zeal were the spur for an entire generation of music fans who liked their politics and politicians well-roasted - on both sides.
The chance to catch the divine Ms. Seeger in a cosy venue is one that only the foolhardy would miss. For much of her performance in Whelan's this week, the rewards more than measured up to the reputation. Her multi instrumentalism (guitar, autoharp, banjo, keyboards, concertina), her unashamed fealty to the politics of folk music (where gender wars, labour laws, ecology and Napoleon jostle for space), and her magnificent voice conspired to still a surprisingly small crowd who hung on her every note and syllable.
Armed with a scrapbook of unlikely, sobering and downright surreal press cuttings which she interspersed between the music, Seeger's repertoire was a timely reminder of just how searingly real folk music can be. This is music by, of and about folks, and when their lives are touched by war, by discrimination, by greed and by love, their stories are most definitely worth telling - and telling again.
For A Job straddled the past and present with its references to silicon and lint, asbestos and coal, a labour song stripped of the usual jingoistic elevation of work to pedestals unreachable by most of us ornery folk. It's A Free World was a wry peep at the dubious pleasures of personal freedom (ever tried discouraging an insistent smoker with a fart? Ms. Seeger swears by it), and The Caveman reflected the reaction of one woman's response to 9/11, where rhetoric was supplanted by bald fact, and the unassailable parallels in Dubya's world of terrorism and patriotism were well and truly lambasted.
Seeger's greatest asset is her uncanny ability to dissolve the gap between artist and audience. She belongs to a long line of musicians who sunder the meat from the bone effortlessly, rendering the unpalatable visible. Listening and watching her trawl through past and present, it was easy to see where Ani di Franco, Utah Philips and Bruce Springsteen drew from the well.
And like all the best conscientious objectors, Seeger defied the curfew and played on, even treating us to a bareboned delivery of The First Time Ever I Saw Your Face. Now if only the venue could've silenced the till and muzzled the DJ next door, it would have been a night to file high on the list of most memorable gigs.
Siobhán Long
The Irish Times
Arts Desk
Irish Times Review, Nov. 2002
The Essential Ewan MacColl Songbook: Sixty Years of Songmaking
compiled and annotated by Peggy Seeger.
The Peggy Seeger Songbook: Forty Years of Songmaking
by Peggy Seeger.

(excerpted:)
These two massive tomes are a testament to one of the first couples of 20th century folk music, Ewan MacColl and Peggy Seeger. MacColl, born Jimmie Miller, was the song of a Scottish iron moulder whose radical politics forced him to leave Scotland in 1910 to find work. Young Jimmie, therefore, grew up in Salford and nearby Manchester, towns he later immortalized in songs like "Dirty Old Town" and "The Manchester Rambler." He founded the well-known Theatre Workshop and after World War Two, became increasing involved in folk music. Seeger was born to a very musical family. Her father was the musicologist Charlie Seeger and her mother the singer and musician Ruth Crawford Seeger. Both became very active in folk music in the 1930's And brought their children along with them in recording trips and study voyages of all kinds. Peggy, her brother Mike and her half brother Pete are the ones most associated with folk music today. In 1956, MacColl met Seeger at a rehearsal for a TV production on which both were singing . . .he remembered his first meeting with Seeger as a life-changing moment and wrote about it in his most successful song " The First Time I Saw Your Face. In 1958, the two met again . . . and settled down together for 31 years until MacColl's death in 1989.
. . . one of the very refreshing things about this book is Seeger's unsentimental honesty about which songs are dated, which she never liked, and which are pretty good. So for people who want the classics of MacColl's repertoire, this book isn't strictly necessary. But as a glimpse of the process of writing songs, this book is both fascinating and instructive. How did MacColl transform old Irish songs into social commentary, how did he apply Scots' lullabies to political demonstrations and how did he convert the landscapes of Britain's inner cities into places of mystery and romance? It's all here to be read, played, sung and pondered and for that part it's highly recommended.
. . .MacColl's presence is as deeply felt in this book (Seeger's collection) as Seeger's presence was in the MacColl book. Indeed, the most moving songs here, like "New Spring Morning," deal with their great love for one another. It's also interesting to compare the two books and look at events in their lives through their songs . . .Seeger's collection is just the sort of book to get you in touch with your inner earnest, eco-feminist singer-songwriter.
Steve Winnick
Dirty Linen, August-September 2002
Epithets such as 'veteran' or 'legendary' trip all too easily from the pen when describing performers such as Peggy Seeger. With some fifty years' experience and at least the same number of albums to her name, the New York born musician has nothing left to prove; that did not prevent her from putting on a show that was a model for any aspiring folk singers and a joy from start to finish.
With both her parents steeped in music (father, Charles Seeger, was a noted ethnomusicologist and her mother a composer and pianist), Peggy grew up surrounded by music and folklore. When she moved to England in 1959 and married Ewan MacColl, she entered the exciting world of the British folk revival and with MacColl she helped to shape it.
At the Folk Club, she said that she had no prepared program yet the evening took on a shape as she shared her lifetime's experience in a series of traditional and contemporary songs from Britain and America. The late Ewan MacColl's torch burned brightly throughout with the inclusion of his classic The First Time Ever I Saw Your Face (written for her) and several others songs written by or learned from him. Her own songs were in turn humorous and caustic. Moving with ease from guitar to banjo and more, she ended, after two and a half hours, at the piano for a look at old age before returning for an encore, Heading For Home.
By Geoff Harden
BBC Radio Ulster reviews
November, 2002
Article:
Peggy Seeger, First Woman of Folk, Returns to New York
Anchored by Ballads, by Lara Pellegrinelli
The motorcades belonging to musical celebrities look conspicuous navigating Manhattan's asphalt straits: lumbering 18-wheelers hauling heavy sound equipment; state-of-the-art tour buses decorated with tacky, airbrushed murals; and, for tooling around locally, everything from anonymous black limos to stretch hummers. More unusual, if less pretentious, is the chariot preferred by singer-songwriter Peggy Seeger: a well-appointed motor home named "Maggie," soon to cruise our thoroughfares.
"It's seven feet wide, nine feet high, and 19 feet long," she says, "but I can get into an ordinary parking space if I'm in good form and no men are trying to help me." Seeger, one quickly deduces, has a healthy aversion to the passenger seat.
It serves her well. The North Carolina resident, a rosy-cheeked 66-year-old with an accent difficult to place, takes to the road an average of five months per year—just the right amount for a "tempered workaholic." After a pit stop at the New Jersey Folk Festival at Rutgers this Saturday afternoon, she will forge ahead to the Advent Lutheran Church on West 93rd Street. A solo concert that evening presented by the Pinewoods Folk Music Club—her first in the city in some four years—will be followed by a Sunday-afternoon workshop on songwriting, a topic she handles deftly in The Peggy Seeger Songbook: Warts and All.
She knows whereof she speaks. Since 1959, Seeger has written hundreds of songs. Those who regard Joni Mitchell, Carole King, and Laura Nyro as the first generation of singer-songwriters to craft material from women's experiences should think again. Seeger is a missing link between the 1950s American folk-song revival and women's liberation; the guitar-toting chanteuses of the 1970s could not have existed without either of those movements.
A member of "the first family of American folk music," Seeger appears to have been destined to her calling from birth. Her mother, Ruth Crawford Seeger (1901-53), was the first woman ever awarded the Guggenheim Fellowship for composition. Her father, Charles (1886-1979), worked alongside Ruth and folk-song collector Alan Lomax at the Smithsonian and became a leading scholar in the emerging discipline of ethnomusicology. Half-brother Pete, her senior by 16 years, was a driving force behind the folk-song revival with his group the Weavers. And brother Mike, a brilliant multi-instrumentalist, would garner high praise as a member of the old-timey New Lost City Ramblers.
Peggy began learning the piano at six, guitar at 10, and banjo at 15. There was so much music in the suburban Maryland home, she says, that she only listened to her radio for The Lone Ranger, Inner Sanctum, and Backstage Wife. Frequent visitors included Woody Guthrie, Leadbelly, Ramblin' Jack Elliott, and Elizabeth Cotton. The diminutive Guthrie, her equal in height when she was nine years old, carried his guitar without a case, dragging it by its strap like a dog on a leash. Elliott also happened to be on the S.S. Maasdam when Seeger left Radcliffe College to kick around Europe; they had hootenannies in every corner of the ship.
She would find the other major influence in her life across the puddle: British playwright and songwriter Ewan MacColl (1915-89), her life partner for over 30 years. "The First Time Ever I Saw Your Face," his best-known song, can be tied to a precise moment: "March 25, 1956, at 10:30 in the morning," Seeger remembers—the moment they met.
She settled in England—one reason why she is less recognized here than her siblings—and only returned to the States permanently in 1994. Together, she and MacColl produced two volumes of traditional British songs, collaborated on the annual "Festival of Fools" by the Critic's Group in London, and, with BBC producer Charles Parker, created Radio Ballads, a groundbreaking series of documentaries woven from interview material, sound effects, and original music. She compiled the Essential Ewan MacColl Songbook in 2001.
Her original material, as one might gather, draws heavily on the Anglo-American folk tradition. "The ballads are your anchor," she explains. "They're your heart songs. They're your history." Her writing certainly owes a debt to their formal structures, as well as their stark and plainspoken texts. Her first verse in "The Ballad of Springhill" (1958) eerily concludes, "There's blood on the coal and the miners lie/In the roads that never saw sun nor sky."
Like other folksingers, Seeger tackles love, war, pregnancy, politics, nature, and nuclear arms, from what has increasingly become an eco-feminist perspective. But perhaps her greatest gift lies in personalizing these issues as seen through the eyes of others. For example, Seeger joined demonstrators at Greenham Common in Berkshire, England, to protest the presence of cruise missiles throughout the 1980s; "Woman on Wheels" tells the story of Jennifer Jones, a woman she met plying the base's chain-link fence with bolt cutters from her wheelchair. "Missing," a plea for "disappeared" Chilean activist Murielita Navarrete, resulted from a six-hour conversation with Navarrete's mother and sister.
She never minces words, a quality that also begets particularly pointed, salt-of-the-earth humor. The sights—and smells—she so vividly captures might make you squeamish. In "It's a Free World" (1993), a determined restaurant patron combats smoking by harnessing a powerful force of nature: flatulence (bringing new meaning to the question "Filtered or unfiltered?"). "I'm Gonna Be an Engineer" (1971), her most popular song and one adopted as an anthem of the women's movement, provides a whiff of a lady's less savory domestic duties: "Well, every time I turn around there's something else to do/It's cook a meal, mend a sock, or sweep a floor or two/Holding out the potty when the baby wants to poo/I was gonna be an engineer!"
Some of Seeger's more recent offerings challenge the bombings in Afghanistan—one song is prefaced with the sizable list of U.S. targets since 1945—while others celebrate the relationship with her current partner, Irene Pyper-Scott. Seeger's a good eavesdropper, or so she says. Her time spent on planes, trains, in roadside diners, and otherwise in the company of the folk still inspires her. "In my life these days, I travel," she says. "I stay in people's houses. I listen to their stories and I'm astounded by their survival tactics and all that they know. I learn, I learn, I learn."
- Lara Pellegrinelli
Content from VillageVoice
Original article accessible at http://www.villagevoice.com/issues/0217/pellegrinelli.php

"For decades, Seeger has been one of the most authoritative voices in American and English folk...While she is acknowledged as an esteemed interpreter of traditional material and a gifted instrumentalist, she is perhaps best known for her observant and caustic original songs about women."
- Chris Morris, Billboard
"Peggy Seeger does an outstanding job of exploring and singing songs that help illuminate the condition of women through the difficulties we face."
- Mollie Whalen
Coordinator of Women's Studies
East Stroudsburg University
"Miss Seeger is a charming entertainer. She was entirely at ease, yet in complete command of her varied, enjoyable program. Her casual manner disarmed her more than 400 listeners and created that relaxed intimacy that facilitates communication between performer and audience."
- Lowell Durham, Salt Lake Tribune
"The tall and slender folk singer gracefully managed the stage all evening, moving back and forth from banjo to guitar to dulcimer to piano to autoharp to concertina. Woven throughout her concert were stories from her life . . . Real life is funnier than fiction, and from real life this woman is inspired. Seeger is a spiritual person, although not in the traditional sense, as she will tell you. She finds sanctuary in large churches because they are usually in the middle of noisy cities. Inside she can hear the pure white page of silence, and then her own thoughts can be heard. On these pure white pages her music is often written."
- Marilyn Blumer, Anchorage Daily News, March 15, 2000.
---
Designed & Managed by Peter Chan
Copyright© 2002 Real People's Music
This page last updated: January 29, 2012